I am often invited to seminars where my colleagues and I confer and commiserate about the challenges of teaching. Our common dilemma as educators in the MENA region has knit us together in shared webs of woes and victories as we struggle to teach our students new skills. In a sense, we have become a community where we all know each other. So when I came across a fresh face of a woman that barely seems to have finished her graduate degree, I was intrigued to find out more about her.
Erin Zimmerman is the young and vibrant Assistant Professor of Rhetoric and Composition in the English Department and is Director of the Writing Center and Writing in the Disciplines Program at AUB. The Ph.D. alumna of Iowa State University is blazing a new path for herself at the prestigious university banking on her unorthodox life journey. She was born in a small town in North Carolina and never imagined life would settle her in Lebanon thousands of miles away from her roots. Her young age belies experience and self-assured manner that she effuses effortlessly.
Zimmerman was born in a small rural town, but her sense of adventure set her forth even to New York City in her early life. Growing up, she was constantly reading and writing, so when it came to choosing a major, she went to English Literature. Upon graduating, the only job she could find without prior experience was working for a bank which is something she found monotonous and limited. Instead, she opted to continue her graduate studies in writing. As fortune would have it, she was asked to work in the writing center. Erin enjoyed the challenge of teaching pupils practical writing skills and developing any latent talents they have. She also got involved in designing writing curricula that helped faculty all across the university incorporate writing in their courses. She got her Ph.D. and still maintained her interest in writing.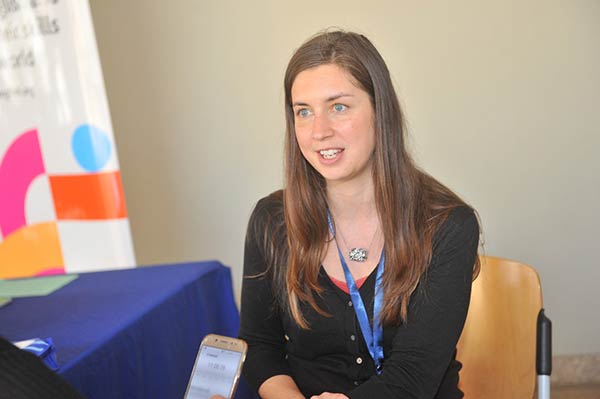 When finishing her PhD and searching for a job, she stumbled on an advertisement for a position in AUB. Her then boyfriend and current husband had lived in the Middle East and enjoyed the experience, so his excitement over the possibility made her eager to consider such a radical move. On a professional level, rhetoric and composition is a major that is not often taught outside of the United States of America, so her niche educational background is not easily found in this part of the world. On a personal level, she has an inquisitive nature and a healthy dose of perseverance that refuses to leave any rock unturned or task undone. Furthermore, Erin believes her adventurous nature simplified the decision.
Zimmerman's experience so far has been very rewarding on personal and professional levels. In the United States, most students come from the same educational background; however, in Lebanon, students seem to have gone through different writing experiences during their schooling years. Add to the mix how the government influences the schooling programs, teaching students writing skills is such a unique challenge and different from anything she had previously experienced. It forced her out of her comfort zones to create new methods to teach them. Even books, kits, tools and textbooks easily available in the United States aren't easily accessible in Lebanon, and yet even without all that support, teachers here manage to teach writing skills. The students and circumstances truly oblige teachers to be lifelong learners as the hope to shape their own students.
Dr. Erin Zimmerman has become a fixture in the halls of AUB and its prestigious legacy. The challenge of dealing with the enigmatic chaos of the Lebanese educational system and society is enough enticement to lure her for many years to come. She relishes the perilous and exciting path ahead of us with colorful and off-beat personalities she predicts she will encounter in the future.