Fadi El Khatib, when we mention this name the first thing that comes to our minds is the greatness and glory of Lebanese basketball. Fadi El Khatib Aka the Tiger is the legend of the Lebanese basketball and the king of Asia for numerous reasons. In 1997, Khatib joined the "Sagesse Team", signing a three-year contract which was renewed for another seven years.
During his time alongside veteran Elie Mechantaf and Sagesse financing tycoon Antoine Choueiri, El Khatib went to win the Lebanese League seven times, Arab Club Basketball Championship two times and FIBA Asia Champions Cup three times, all with Sagesse Club.
El Khatib signed and moved to Sagesse's rivals Al Riyadi Beirut, in which he helped the team to achieve their first ever FIBA Asia Champions Cup in 2011 and thereafter the Lebanese Basketball League title in the 2008/2009 season although he was banned but still got the medal, 2014/2015 and 2015/2016. He also played with Champville Club and helped them grab the Lebanese Basketball title in 2011/2012. He played for Blue Stars, Amshit and Homentmen and helped them reach the Final 4 for the 1st time. The tiger never missed the final 4 of the league since 1998 except the season he played in Syria with Ittihad el Halabi 2004/2005 and when he was playing in Ukraine (Cherkaski Mavpy)  2007-2008.
Fadi El Khatib is a unique player that has been maintaining a consistent level for the last 19 years. He has been the league's best scorer for many years in the presence of Tony Madison, Ismail Ahmad and a lot of superstars. He was known wearing the number 15 Jersey. The Lebanese legend has dominated all local and international championships. He won the Dubai tournament for 3 times, the Syrian international tournament 1 time, Sharjah tournament 1 time, Asia basketball championship for clubs 4 times ( he is the most player to clinch this title), Lebanese super cup once, Lebanese Cup 10 times, Arab Championship for clubs 5 times.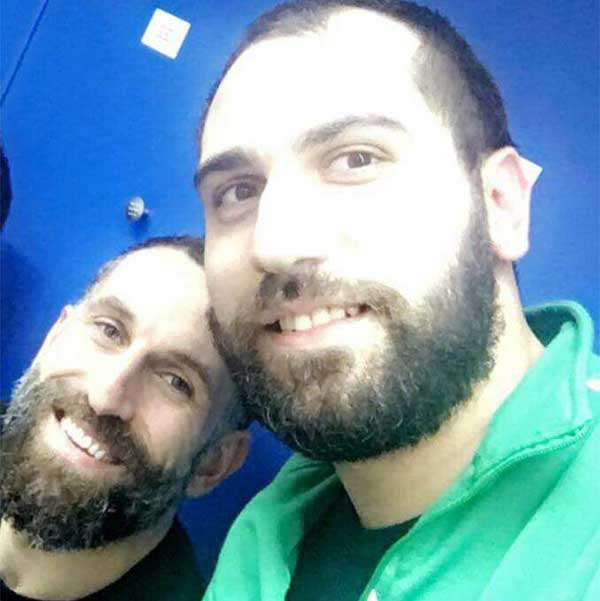 On the personal level, Fadi was awarded the MVP of Asia for 3 times. The last one was in 2011 when the championship was held in Manilla Philippine. Nowadays he is considered the best Arabic player along with Saleh El Majri. Internationally Fadi El Khatib started playing with the Lebanese National Basketball Team in 1999  and managed to lead it in a decent and massive way. He raised the Lebanese flag high by helping Lebanon to reach the final of Fiba Asia 3 times. He led the National Team to reach the world cup 3 times when he dominated too many superstars like Oscar Torres (Venezuela), Boris Diaw (France) and Joel Anthony (Canada) etc..
The all-time Lebanese best player and scorer has impressed everyone during his appearance on international basketball events especially the best player of all time Micheal Jordan who quoted to new York times that fadi is an NBA material and he must be inked by an NBA team. The Lebanese Tiger was miles away from reaching the NBA in 2003 but he couldn't get his release from Sagesse club. Furthermore,  Fadi led Lebanon to win Waba for many consecutive times; not to forget that he was the world cup first week's best scorer in 2010. In 2017 Khatib decided to retire internationally but not locally, he signed a 2 year- contract with Champville where he will be ending his career.
Unfortunately, the moment has arrived that I hoped would never come, the 38 years old player is retiring after 20 years of achievements and It's impossible to explain 20 years in few phrases.
To my Idol, I say: Your achievements will remain in the memory of every Lebanese fan, your value on the court will be remembered by every Asian and they will always fear your name. Twenty years of giving to the Cedars will not be erased throughout the years. You will leave your trace in the Lebanese basketball after leading the  National team for many years. It's a great honor that I have lived in an era when Khatib was dominating locally and internationally.
‎‏To this legend that will never be repeated ….THANK YOU #15
Reporting by Dani Salloum. This article appeared first in AbyadAswad.com. BEIRUT – LEBANON. August 20, 2017 – Updated on Feb. 3, 2018