During their quarterly Strategic Project Management Committee meeting, Ambassador Hugo Shorter and Director General of the ISF Major General Imad Osman discussed the British Policing Support Project (BPSP) within the framework of the Memorandum of Understanding (MOU) for £13 million agreed in June 2016.
The Strategic Project Management Committee formed of Ambassador Shorter, Major General Imad Osman, Head of ISF Academy General Ahmad Hajjar, Head of Mobile Forces General Fouad Khoury, Head of Beirut Police General Mohamad Ayoubi, and Inspector General Joseph Kallas aims to ensure effective strategic governance and oversight of British Embassy/ISF project implementation.
Ambassador Hugo Shorter highlighted the full endorsement by the President, Prime Minister, Minister of Interior, and the High Council of Defence of the ISF Strategic Plan 2018-2022 representing a major milestone to the ISF and to Lebanon.  In March 2018, the Strategic Plan was presented to the international community at the Rome II Conference. Further, the Director General made the public launch on ISF Day in June 2018.
The UK is supporting the ISF to lead and implement its Strategic Plan, to improve Human Rights compliance and to respond to the security needs of Lebanon.
As well as an update on ISF activity, Major General Osman and Ambassador Shorter discussed the ISF's community policing strategy. The roll out of the model to Raouche and Ramleh El Bayda Police stations is gaining momentum as officers are being recruited for the police  stations to become operational in October 2018. These along with Ras Beirut Police and Ashrafieh Police stations will allow the ISF to better deliver policing services that complies with human rights standards in Beirut and gain the trust of the Lebanese people.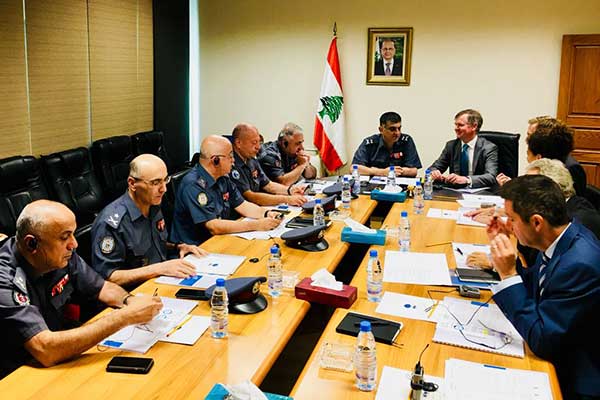 Gender and Human Rights are central elements of the UK's support mainstreamed across all activities with Inspector General, Mobile Forces, ISF Academy, Police of Beirut.
After the meeting Ambassador Shorter said:
"I am very pleased to meet with Major General Osman and discuss our continuing support to the Internal Security Forces. The UK is working closely with this institution that is striving to become a modern, professional and accountable police force that has the trust of the community it serves. General Osman is committed to implement the ISF Strategic Plan and ensure internal security is properly delivered to all Lebanese. We fully support the plan and we are providing the necessary support to help in its implementation.  The roll out of community policing covering a third of Beirut by the end of summer will allow the ISF to demonstrate a higher level of professionalism and engagement with the community, and is great news for many Beirutis."