A Trip that Could Change your Life!
What is The Camino de Santiago or Saint James's Trail?
The Camino de Santiago: Pilgrimage of Compostela known in English as the Way of Saint James among other names (in french as Saint Jacques de Compostelle and in Arabic as Mar Yaacoub), is a network of pilgrims' ways serving pilgrimage to the shrine of the apostle Saint James the Great in the cathedral of Santiago de Compostela in Galicia in northwestern Spain, where tradition has it that the remains of the saint are buried.
Camino de Santiago's Passport.
A pilgrim's passport is a must, (also known as a credential). The passport will have spaces for sellos, (stamps), this proves that you have walked that day. The passport often ends up being a treasured possession as it is a great reminder of all the places you have stopped and stayed overnight.  The stamps are all different and almost all bars and cafes will have one.
How will we do the Camino?
We will do the Camino Francés – the French Way – and will accomplish the way in 6 nights and 7 days instead of 43 days. September is considered one of the best months to walk the Camino to Santiago. The weather is generally warm, everything is open, and the routes are not as busy as the main summer months.
Moreover, we will accomplish the Camino in 6 main phases and each phase includes stop points and breaks in several villages as described below
Roncesvalles – Pamplona: 2 stop points (Roncesvalles 4 km, Pamplona 4 km).
Pamplona – Logrono: 5 stop points (Puente de la Reina 4 km, Cirakqui 2.5 km, Estela 2 km, Visna 2.5 km, Logrono 3 km).
Logrono – Burgos: 5 stop points (Najera 2 km, Santo Domingo de la Calzada 3 km, Rodecilla 1.5 km, Belonado 2 km, Burgos 3 km).
Burgos – Leon: 5 stop points (Burgos 7 km, Castrojeriz 3.5 km, Carrion de los Condes 2.5 km, Sahagun 2.5 km, Leon 5 km).
Leon – Lugo: 4 stop points (Puente de Orbigo 2.5 km, Astorga 4 km, Ponteferrado 3km, Lugo 3 km).
Lugo – Santiago de Compostela: 5 stop points (Sarria 2.5 km, Portomarin 5 km, Palas de Rei 2.5 km, Melide 1.5 km, Santiago de Compostela 5.5 km). Breakfast in Santiago and back home.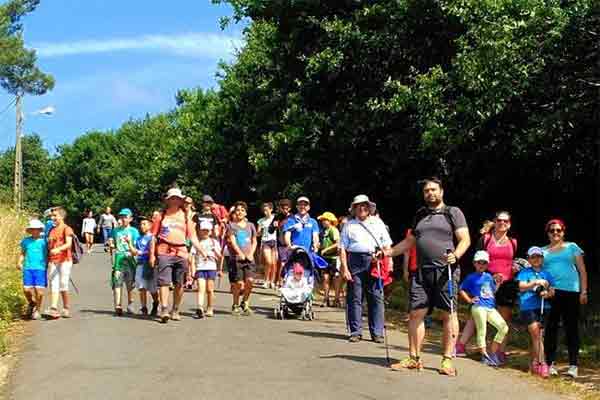 Camino de Santiago cost's options:
Sept 16 to Sept 23 – 7 nights and 8 days
CAMINO TO SANTIAGO – VIP package.
Beirut / Barcelona / Santiago / BeirutAt the starting point, the Camino to Santiago includes an exclusive modern bus, guide, insurance, hotels 2 ,3 and 4 stars, full board. Afternoon visits to the city where you will spend the night, each pilgrim will decide whether he walks his next stage or rides the bus.Some mouthwatering events:
Wine tasting in Irache Bodegas wine cellar
Galician delicious Octopus
The famous queimada de Galicia, with bruixos and meigas€1200 VIP – (30% in advance for reservation).
Sept. 16 to Sept. 26 – 10 nights and 11 days
CAMINO TO SANTIAGO and BARCELONA – VIP package.
Beirut / Barcelona / Santiago / Barcelona / Beirut
It includes all of the first option, plus a 3 nights in Barcelona, hotel included.€1400 VIP – (30% in advance for reservation).
P.S. Important:
Extra Charges: No extra or hidden charges if the pilgrim accepts to share the bedroom with his companion, or other pilgrim. If he prefers not to share, an extra charge of €150 for the 6 nights will apply.
Passport: It must be valid for more than 6 months to get the Schengen visa. Minimum visa processing time is 15 Calendar days (It may delay depending on case to case).
Required for Spain visa:

Fees, L140,000 more or less,
recent photographs (3.5*4.5 cm).
Original Passport and one copy and also copies of previous Schengen visas.
Up-to-date personal bank account statement for the last 3 months stamped by the Bank. Please note that a letter from the bank stating only the balance is not valid! – International credit cards
Travel Insurance
Proof of professional background
Travel itinerary for tourist trips, Hotel reservation and Flight reservation
For more info, you can call: Selim Saade at 03 942822 (WhatsApp available) or Michel Noujaim at 70259040 (WhatsApp available)